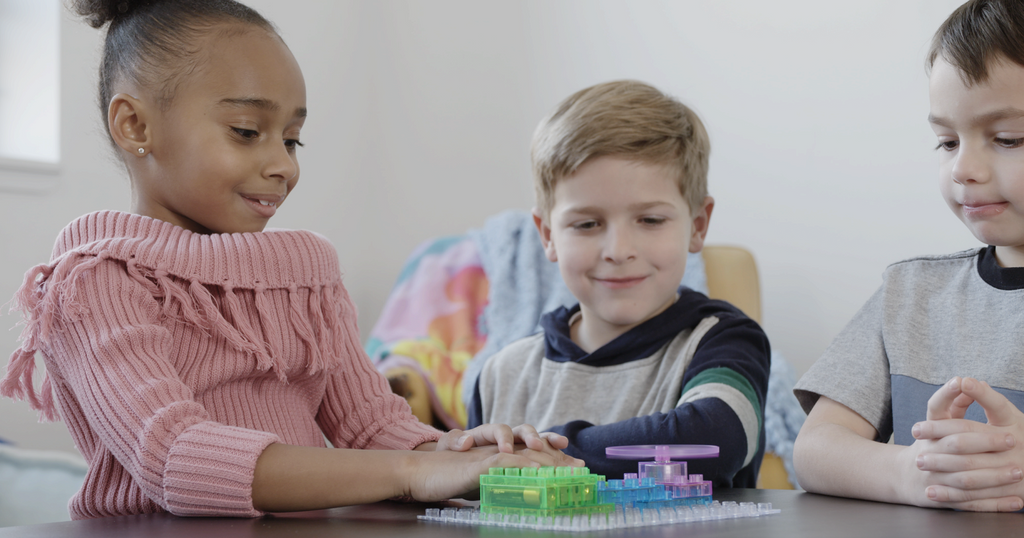 Project 1: Motor Launching Flying Saucer
Ever Wonder How a Motor Works?
Fleming's Left Hand Rule
Point your index finder in the direction of the magnetic field
Point your middle finger in the direction of current flow
Your thumb then points in the direction of motion
Can you apply Fleming's rule to the motor configuration below?
This is what the inside of the Circuit Blox motor looks like !
Project 2: Reed Switch and Touch Plate Controlling Music, Sirens and Space Battle Sounds
How do Reed Switches and Touch Plates Control Music ICs?
3-in-1 Music IC
The 3-in-1 has a custom Integrated Circuit (IC) and other circuitry inside it to provide different audio signals to the speaker based on whether the Input/Output (I/O) pins and Control (T) pins are high (+) or low (-):
I/O1 and I/O2 both high (+) then sirens sounds play
I/O1 high (+) and I/O2 low (-) then space war sounds play
I/O1 low (-) and I/O2 high (+) then music sounds play
Reed Switch
When no magnet is near the Reed Switch, then internal leads are open (off).  When Magnet is near Reed Switch, it forces internal leads to close (on).
Touch Plate
A touch plate is open until you place something conductive across it's terminals
Project 3: FM Radio Receiver
Ever Wonder How AM & FM Radio Works?
The FM Radio receiver you built using Circuit Builder-120 receives, demodulates and converts to audio the FM radio stations transmitted from nearby radio  transmission towers.
High frequency carriers travel well over the air:
AM: 540-1600 kHz
FM: 88-108 MHz
Spring wire acts as an antenna in this circuit
AM & FM provide ways to transmit radio signals from high, outdoor towers to AM/FM receivers in your car, your handheld device or the circuits you build using Circuit Blox-120!
Amplitude Modulation (AM) Audio signal contained in the amplitude of the carrier
Frequency Modulation (FM) Audio signal contained in the frequency of the carrier